We had another Ravnica: City of Guilds prerelease at the FUNtainment Game Center (formely Magic Center). It was a whooping success with a total of 47 participants, much more than I had anticipated for this third prerelease.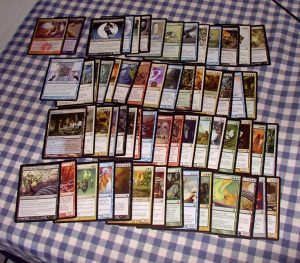 The store was full, since there was a large YuGiOh tournament going on at the same time ("Pharaoh Tour") with about 150 participants. A Vs event had to be canceled due to a lack of participants. Scheduling such an event as competition to a large YuGiOh and Magic event seems like a poor choice on the part of UDE. But at least some of the Vs players decided to play in the Ravnica prerelease instead, so that we had a few late entrants.
Since the place we usually used for posting pairing was used by the YuGiOh tournament, I had to resort to creativity: A Yugi standup figure was used for the rest of the tournament as pairings holder, despite the protests of an unnamed UDE employee. ("As an official UDE representative, I have to tell you that Yugi is a really cool guy.")
Due to time problems, caused by the high number of players, the late entrants, and the YuGiOh event going on in parallel, I decided to leave out the deck swap. One of the players, who opened a foil Birds of Paradise was overenjoyed, since he had feared that he'd have to give it away.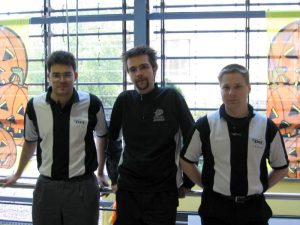 One of the side drafts had an interesting problem: Four boosters contained a total of more than 40 rare cards. In most of the boosters the common slots contained rares. We replaced the boosters with boosters from the price pool, and let the players draft from the opened rares at the end of the draft.
Unfortunately I had to leave after three rounds, but I left Cristian Hoof (L2, scorekeeper) and Christopher Eucken (L1) behind, and I'm sure that the tournament was in good hands.
Finally, here is a photo that probably neither Wizards nor Upperdeck would endorse: some of the judges that frequently work at the FUNtainment Game Center in Berlin: